Word Finder is a game from AppTornado Games. Playing this game will help you develop your word power. If you love discovering new words and expanding your vocabulary, this is the game for you. It is exceptionally easy to play. The creative use of colour also gives it an element of surprise every time that you play. Word Finder also has a brilliant theme that takes you right back to the classroom. There is one key reason that so many people love this game, and that is just about anyone can play it.
Get back to the Classroom
The first thing that stands out when you open this application is the look and feel of it. It is themed around a chalk board. It also features a key attention to detail, as there are some sticks of chalk at the bottom of the board. The main colours are the black of the black board, and the chalky white effect. In the corner of the home page, is a little box with the Word Finder logo. It can quickly link you to the Play store or App store. On the Home Page, you will find the welcome menu. It has four key options for you. These include Choose Game, Quick Game, Achievements and Leader boards.
When you begin to explore each of these options, you will be blown away by the variety of choices that you have. There are hundreds of different word search options that you can experience, so get started building up your skill. Start easy, and in next to no time, you will be a total expert at the hard games.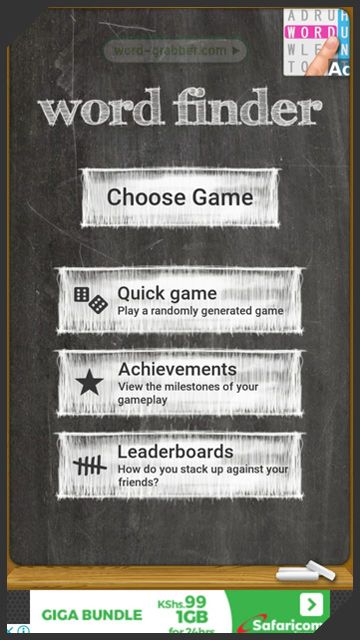 Class Begins – Figure out the Lesson
After you select "Choose Game" you will find thirteen categories that you can choose from. These start with the basic easy, medium and hard covering a range of topics.
Let's say you choose hard to begin. The first game is open, and all the rest are locked. To unlock the next games, you need to successfully complete the one before it. Each game that you choose to unlock covers a different topic. This means you are bound to be enthralled with each game you play.
Each game that you play has a timer. It is not that you need to beat the clock, so don't worry about that pressure. What the timer does is actually count how long that you take to complete a game. The better you get, the faster you will be able to complete the games. This makes it easy for you to track your skills and also pit yourself against others playing the game.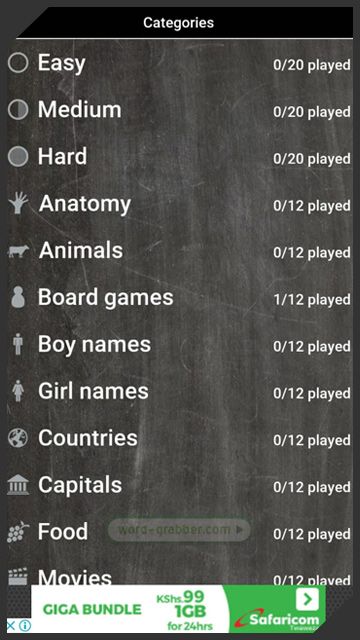 How to Play Word Finder
Each time you find a word in the grid, the word is highlighted in a bright colour so that it stands out. There are also the sounds you need to watch out for. The sound goes lower when you make a mistake.
At the top of the page, you will be able to see how many words you need to complete in the grid. With each word that you complete, the number changes till you reach the total number.
Once you get more and more of the words, you will start earning some stars. Aim to get all the three stars. If you are a little bit stuck, then you can click on the light bulb. Once you do so, the word will be highlighted for you, helping you move along.
When you complete the level, you will get a congratulatory message.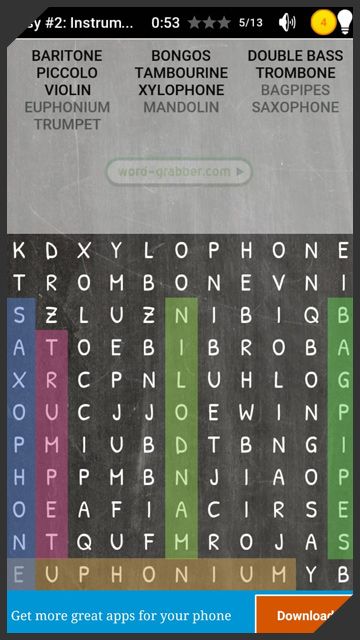 A Quick Fix to Brighten Your Mind
There are literally hundreds of words for you to learn and discover when you are playing in this game. That is why you should take each level as a learning experience. When you get started, decide what you want to learn and then choose the category by selecting Choose Game.
In each category, there are a number of levels for you to experience. Make sure that you complete all the levels in each category. In this way, you will be able to learn so much, and throw in some new words into your spoken sentences.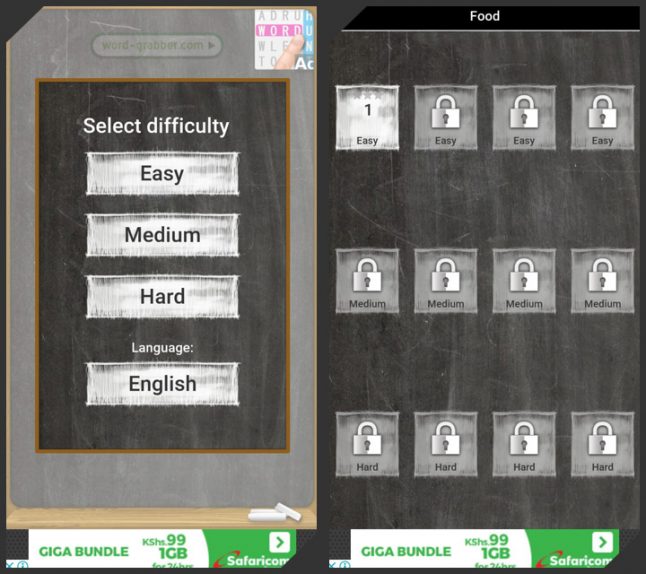 Amazing Aspects that You Can Watch Out For
With so much to choose from, you may find it difficult to decide which game that you should play. No problem, this has been anticipated by the developers. When you decide to play, you can choose the Quick Game option. This will bring up a randomly generated game for you to try out. You can choose the level of difficulty that you prefer on this randomly generated game. There are three options. These are Easy, Medium and Hard. Another fun perk, you can choose to play in a few languages. These include English, French, German, Spanish and Dutch.
With some other games, when you choose a different language it is only the instructions that appear in that language. This game goes the extra mile. It ensures that the words in the grid are also in the language that you have chosen. This means that players from all over the world can enjoy what this game has to offer.
The Little Things That Interrupt Your Play
Every time that you complete a level, you will need to watch an advert before you move up to the next one. It is possible to make some in-app purchases. With these, you do not need to endure all the adverts during game play. You will find that the adverts are not too distractive. There are times that you can choose to skip the advert. This means that the only amount of time that you will spend on adverts is about 5 seconds if you are lucky.
Track Your Achievements in Word Finder
Word Finder is the type of game that anyone can experience when they are looking to play. There are a number of different levels, as well as categories for players to choose from. The game keeps getting better, so you can be sure that there is plenty to look forward to. You can enjoy lots of levels absolutely free, and stay entertained for hours. Track your achievements and try to make it to the top of the leader board.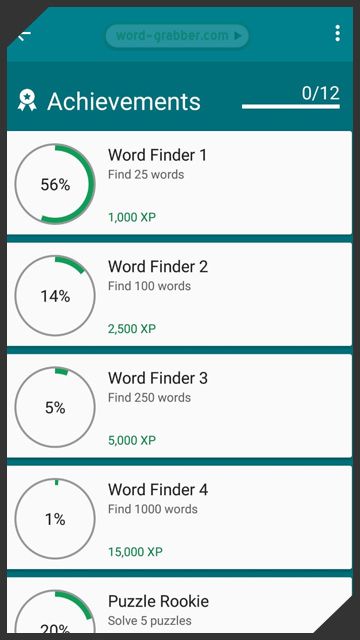 Read more about different Word Games in our articles on word-grabber.com and choose your favourite game! You can find other reviews here.