The main thing to keep in mind is points, points, and points!! This is what you need to make your little Chum in Word Chums ecstatic. Getting high points is not rocket science, all that is needed is for the player to pay attention to the hints and bombs that are available to all players.
Tricks to Play Word Chums Like a Pro
Begin by making use of the hints and bombs to help you get ahead. With the hint, you can get help to find the best place to fit a word for maximum points. This will be easily indicated with an arrow.
You can also use the bombs. If you have ever played a word challenge game, then you know that there usually comes a point where you have letters that do not seem to form any kind of word. This can be discouraging and frustrating at the same time. This is where the bombs in Word Chums come in. They allow you to dial down your frustration by exchanging all the letters in your hand, so you can create fresh new words.

Use Letters with High Points
If you are wondering how to play word chums like a pro, it is worth noting that the words with more than five letters will get you additional points. When playing five-letter words, for example, you get 10 bonus points, with a six-letter word you get a bonus of 20 points, and a seven-letter word can give you a whopping 40 bonus points. What is also interesting is that you can sort out the words you want to play based on the number of blank letters that you have, opening you up to even more possibilities when it comes to getting points. All this can be accomplished using the word generator.
Extend a Word in Word Chums
There are some other words that you can put into play during the game to help you get a high score. The simplest way to get lots of points is to extend a word that is already on the board by adding the letter S to the end of it. Using that letter S, you can then create a brand new word that will give you more points.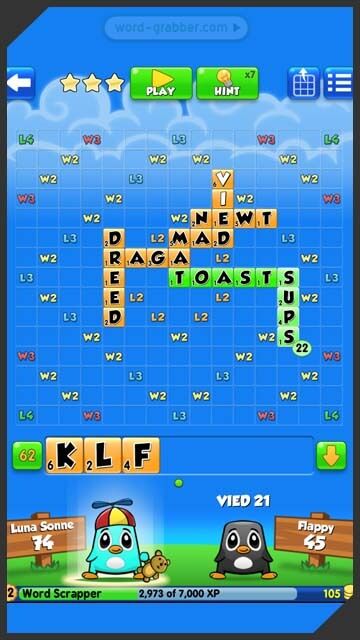 Use Short Words
Short words can work too. While long words will give you bonus points, there are some high-value letters you can also use to create short words. These are the words you can create when the board has become crowded and it seems impossible to find room for a long word. You can create short words that are parallel to other words on the board, which will help elevate your total scores.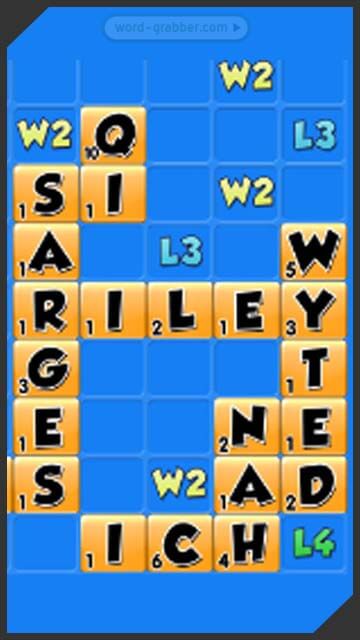 Become a Leading Chum
You have every chance of becoming a leading chum when you are playing this game, and then you can crown yourself the king or queen of chums. This is where the weekly leaderboard comes in. With each game you play, you have the chance get to the top of the leaderboard. The quickest way to get there is to make sure you get high points in every game you play. The leaderboard is reset each week, so you always have a chance to make your way to the top.
Another way to show others that you are a pro? Accumulate your XP points as quickly as possible. The more points you have, the easier it is to get coins, which you can then use to purchase hints and bombs. These can boost your play even more. There are different ways to build up your XP, so you need to take advantage of every opportunity from the get-go. We explained how you can earn XP and coins in another article.
If you find it difficult to build up your XP this way, take some time to watch videos between levels. When you do so, you are able to get some free coins to help boost your coin balance. The game also entices you to get some coins by downloading a few apps. When you do this, you can get a whopping 1000 coins, depending on the offer that is available at the time.
Untested and Untried Winning Strategies
The unconventional can help you win this game, and nothing is more unconventional than trial and error. You would be amazed by the number of words you can form with the letters that you have, even if they may not make sense to you to begin with. In Word Chums, there are letter combinations that form words, even if they may not be words that you are aware of.
The other winning strategy you can use is making use of our Word Chums Cheats or word lists. The more you use them, the easier it becomes for you to memorize the words. You could also take the time to create your own word list that captures the most common letters. Then you can simply refer to it when you need some quick answers.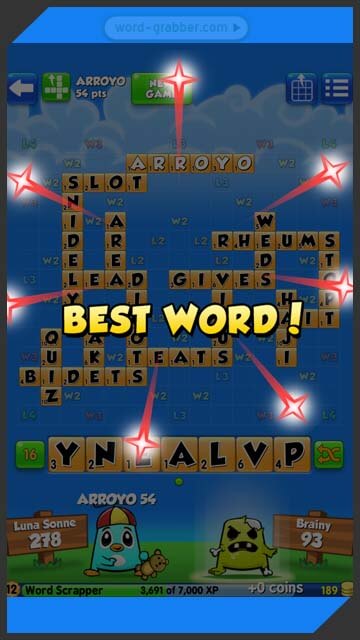 Keep Track of Your Achievements
When playing like a pro and becoming a leading chum, you need to keep track of your achievements. This can be done by paying close attention to your player statistics, as well as all the leaderboards. Compare what you have managed with what the others have tried to put together.
Find as many special features as you can while you are playing and before you know it, you will be a pro.
More about Word Chums
You want to read more about the cute game Word Chums? We have got some other articles about the Word Game App, like an interview with Kenny Newell the Word Chums Community Manager.
image sources
title -- screenshot of the start of Word Chums developed by PeopleFun by word-grabber.com
picture 1 -- 5 -- screenshots of ingame situations of Word Chums developed by PeopleFun by word-grabber.com