Do you remember math class? Difficult text problems, a lot of formulas and always looking for some distraction. Quite a few of you might have discovered the phenomenon of "calculator words" or words you can spell on a calculator.

calculator words
For all those who want to bring back old memories or try to generate calculator words for the first time, word-grabber.com is the perfect field for experimentations.
The only thing you need is a calculator, some spare time, a bit of imagination and our Scrabble word finder.
The language that is developed through creating words from letters on a calculator is called Oðblgshezi. This term is composed of the 10 numbers you can punch in your calculator (1234567890). Here you can see which number corresponds with which letter.
I = 1
Z = 2
E = 3
H = 4
S = 5
G = 6
L = 7
B = 8
TH(ð) = 9
O = 0
How to build calculator words
The secret is to turn the calculator upside down and write the words backwards. To find all calculator words you can spell with Oðblgshezi we think word-grabber.com is the best tool for it.
One of the longest calculator words you can create from theses letters is THEOLOGIES, as well as ETHOLOGIES or SHIBBOLETH. Quite a lot of small words can be created as well, like EIGHT, THE, BEES or GOOGLE. See the following pictures and screenshots to get an idea of what we are talking about.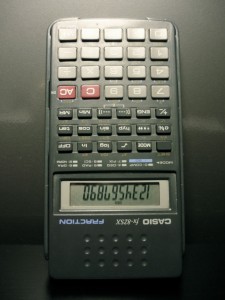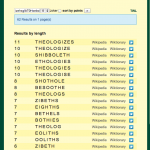 Next time you are using our scrabble word finder take your calculator and generate words you can spell on a calculator just for fun.