Sometimes it's not just the other player who's challenging you, but the letters on your own rack as well. Strangely enough you're often in the situation where you have only consonants on your rack and sometimes you only have vowels. As it is more difficult to get rid of your vowels, today we will show you how to play words with only vowels in Words with Friends. You may even learn some more new words and what they mean. We will also play these words and show you how to put the words on the board to make more of your vowels.
Let's have a look at how you can play words with only vowels strategically in Words with Friends.
In the world of word game players these words are called vowel dumps. VOWEL DUMPS are words that primarily contain vowels. 2- or 3- letter words can contain only vowels.
As you see, word games like Scrabble and Words with Friends have their own words to describe certain things.
First Case: You Have Only Vowels and You Have to Start the Game
This is like the worst-case scenario. You are excited to start the game and take off with a really cool word and then you realize you have only vowels on your rack. No need to panic! You won't have to start the game saying "I'll pass". Here are the 2- and 3-letter words which are definitely acceptable in Words with Friends and you can start the game with:
Aa – basaltic lava having a rough surface.
Ae – Scottish Word for "one"
ai – a three-toed sloth
oe – also oy, the Scottish word for grandchild
oi – a type of punk rock featuring violent, racist lyrics, associated especially with skinheads.
oi is also an interjection to express dismay, grief, pain etc.
Eau – French word for water
So you could start the game playing "AA" for the basaltic lava. Your opponent might be happy with that and could put an E behind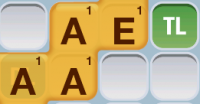 the A and have AE. After thinking "I have nothing on my rack" you have both played valid words and played really cool hooks (for BAA or AERO).
I admit that you don't receive a lot of points with these words as the words aren't long and vowels don't give many points, but nevertheless, you can play!
Second Case: You Have Only Vowels and Use Consonants on the Board
There is no need to panic either. In general, if a word consists of four letters, it always contains at least one consonant. So if you have only vowels and there's already a consonant on the board, it should give you a great opportunity to form a word with your letters.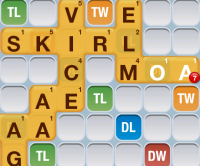 Maybe you realized while reading the words above that you could enlarge the word AI with an R to spell AIR. Here in this case you could simply use an S to play VICES and AAS. Or use an E and a U to play EAU and even receive a triple word count!
As you could realize, you should never underestimate your vowels. To manage the many, many vowel dumps, check out the examples and our online document to find your way through. Of course, you can always check our Words with Friends Cheat too.
aeon

aero

agee

agio

beau

ciao

moa

ease

eaux

eave

ouzo

quai

raia

roue

toea

unai

unau

urea

aquae

areae

audio

aurae

aurei

cooee

aortae

aoudad

apiece

apnoea

apogee

areola

faunae

feijoa

feirie

feriae

flooie

foodie
More vowel dumps with two to five letters are provided in our online document.
Use Words with Only Vowels in Words with Friends on Purpose
So you know how people say that when you are in a bad situation you have to turn the situation into a good one? You can do the same thing with your "bad" situation of having only vowels on your rack. You can use the vowel dumps to execute the 3 Words with Friends Strategies.