The World Scrabble Championship has gone through a number of name changes, in fact the event is currently called Mattel World Scrabble Championships. The competition started out in 1991, however, as the World Scrabble Championship. This event ran every two years until 2013, when it started running annually. The changes have everything to do with who was sponsoring the event; the World Scrabble Championship was sponsored by Mattel and Hasbro interchangeably until 2005, at which point Mattel took over entirely.
Want to become a Scrabble Champion yourself? Climb your way to the top ranks with our
Scrabble Word Finder
to train your brain! You can use this tool to improve your Scrabble game, expand your vocabulary, and hone your strategies.
In 2013, Mind Sports International (MSI) got involved; this is also when the event became annual. They had run their own event in 2012 and due to its success, were able to join Mattel in sponsoring all future events until 2018. Mindsports Academy organized the competition in 2018, though it is clear that Mattel is still very much involved.
On top of sponsorship changing hands, the name of the event has changed three times since 1991. In 2013, the MSI changed the name to Scrabble Champions Tournament, then MSI World Championships in 2016, and finally the Mindsports Academy renamed it Mattel World Scrabble Championships in 2018.
Discover the international Scrabble champions of major tournaments around the globe in this handy
reference guide
.
How Do You Enter the World Scrabble Championship?
Now, how the World Scrabble Championship works is that each participating country is allowed a certain number of "seats". The US has five seats, for example, and runs its own competitions to decide who goes to the world event. Usually, contestants start in local competitions and work their way up to national and then international (e.g. the North American Scrabble Championship), before moving on to the World Scrabble Championship.
If you'd like to get started on your path to becoming a part of the list below of All Champions of the World Scrabble Championship (besides using our Scrabble Word Finder), you'll need to enter yourself into the Scrabble competitions in your local area. It takes a lot of commitment to be a champion and these guys can certainly tell you exactly that.
Why Win the World Scrabble Championship?
But what exactly is the point of winning the World Scrabble Championship? Well, you become world famous and have proof of your prowess in memorization and mathematical possibilities (i.e. counting the deck/tiles).
Frankly, at the championship level, Scrabble is no longer about fluency in a given language. The language or grammar or definitions have no place there. Hence why so many participants don't need to speak a lick of the language they're playing in to become a champion. It is a different world at the championship level, so let's take a look at what kind of people have won the World Scrabble Championships.
1991 World Scrabble Champion Peter Morris
Peter Morris got into Scrabble competitions the moment he finished his post-secondary education and managed to win the National Scrabble Championship in 1989. He then moved on to the first World Scrabble Championship and ended up winning that competition too. After doing so, Morris decided to end his career in Scrabble and focus on his other passion: baseball.
Now, at age 56, Morris is a familiar name among baseball fans. Having authored several books on baseball and being a member of the Society for American Baseball Research, Morris has certainly made a name for himself. He is often consulted for his extensive knowledge and any predictions he might have about the future of baseball.
1993 World Scrabble Champion Mark Nyman
In contrast to Morris, Mark Nyman made Scrabble his entire career. He was the first British player to win the World Scrabble Championship and the only one until Craig Beevers in 2014. Nyman continued to enter into Scrabble competitions, both local and international.
From 1990 to 2002, Nyman produced a British game show called Countdown, and often appeared as a judge. It was certainly a dream come true, as he had been a contestant on Countdown when he was 16 and became the show's first "Champion of Champions". Ever since, Nyman has been regarded as one of the best players Countdown has ever hosted.
1995 World Scrabble Champion David Boys
David Boys dedicated 21 years of his life to Scrabble competitions and was one of the top Canadian Scrabble players. He won the World Scrabble Championship in 1995 and consistently placed third in 1991, 1999, 1996, and 2007.
In 2003, Boys won the Canadian Scrabble Championship. In total, Boys has participated in over 1,800 Scrabble tournaments and earned over $40,000 in prize money. After all was said and done, Boys settled down in Quebec, Canada and now works as a programmer and analyst.
1997 World Scrabble Champion Joel Sherman
Joel Sherman is also known affectionately as GI Joel by fellow contestants. He began his Scrabble career in 1988 as an alumnus of the Bronx High School of Science. After participating in 4,750 tournaments and winning 64 percent of them, Sherman walked away with $118,000. Following his Scrabble career, Sherman is now the director of the North American Scrabble Players Association Club #56.
In addition, he holds the record for the highest score ever played in a tournament (803 points). As such, he has been featured in a variety of books and film, including Word Freak by Stefan Fatsis, Word Wars by Eric Chaikin, Scrabylon as directed by Scott Petersen, and a Collins GEM reference book.
1999 World Scrabble Champion Joel Wapnick
Joel Wapnick is the second Canadian on this list, also a resident of the Quebecois province. He started his Scrabble career in 1976, winning about 63 percent of his games and coming away with $80,000.
Upon ending his tournament career, Wapnick went on to publish three books on Scrabble: How to Play Scrabble Like a Champion, The Champion's Strategy for Winning at Scrabble Brand Crossword Game, and a third title that is implied several times, but never named. He also wrote a novel titled The View North from Liberal Cemetery in 2014, which did fairly well locally.
2001 World Scrabble Champion Brian Cappelletto
Brian Cappelletto was another American to win to the World Scrabble Championship. Like Sherman, Cappelletto was featured in both Word Freak and Scrabylon, of which he was the main star. In Word Freak, author Fatsis describes him as "Scrabble's first child prodigy". When he's not playing Scrabble, Cappelletto currently works as an options trader.
2003 World Scrabble Champion Panupol Sujjayakorn
Not much is known about Panupol Sujjayakorn, but he was the first Thai World Scrabble Champion and that alone has given him plenty of fame. Sujjayakorn studied economics at university and is currently an analyst at Exxon Mobile.
More importantly, Sujjayakorn is one of the best examples of what Scrabble is truly about at the championship level. He has an encyclopedic knowledge of English words, but can only speak conversational English.
2005 World Scrabble Champion Adam Logan
Adam Logan is the third Canadian to make it onto this list. If you ever doubted that Scrabble is all about math, Logan won 68 percent of the tournaments he participated in and earned $100,000. Logan is a research mathematician with a PhD from Harvard University. He won the World Scrabble Championship just as he finished his doctoral work before following his career in mathematics.
2007, 2011, 2013, and 2018 World Scrabble Champion Nigel Richards
Ah, now we have come to the crown jewel of Scrabble Champions. Nigel Richards has won four World Scrabble Championships in total on behalf of his home country, New Zealand. He is the only one to win more than one World Scrabble Championship, never mind the four he has.
In addition to the World Scrabble Championships, Richards has won more than several national tournaments in the US (5), UK (8), Singapore (11), and Bangkok (13). All of his victories are a testament to his eidetic and mathematical abilities, even more so when in 2015 he won the French World Scrabble Championship. Apparently, he only studied the French dictionary for nine weeks before the first win. Richards won the French World Scrabble Championship again in 2018.
Not much is known about the man himself, as his fellows describe him as reclusive and he is rarely interviewed.
2009 World Scrabble Champion Pakorn Nemitrmansuk
Image alt: pile of random scrabble tiles source Image by BruceEmmerling on Pixabay
Pakorn Nemitrmansuk is the second champion from Thailand to win the World Scrabble Championship. He participated in the event six times, from 1999 to 2011. In 2009, he competed against Nigel Richards and not only came out the winner, but won 18 out of 24 games.
2014 World Scrabble Champion Craig Beevers
Craig Beevers is the second Englishman to win the World Scrabble Championship, after Mark Nyman. Presumably after his big win, Beevers went on to become a contestant on Countdown and won series 57. The competition included nine-letter anagrams and mathematical problems.
Before his big win in 2012, Beevers and fellow Scrabble player Ray Tate worked on breaking the record of most points scored in 24 hours of Scrabble. Unfortunately, Tate fainted from dehydration after 15 hours of play and the team did not attempt the feat again.
Beevers has been fairly vocal in his Scrabble career and come out with a book titled Word Addict, published in 2015, in addition to an article he wrote for The Guardian called "As world Scrabble champion, I think new words are obvs lolz." The article was in direct response to the new words Hasbro added to the Scrabble dictionary, including words like "ridic" and "blech".
More recently, Beevers now holds the position of webmaster for the World English-Language Scrabble Players' Association and the Association of British Scrabble players.
2015 World Scrabble Champion Wellington Jighere
Image alt: pile of plastic scrabble tiles source Image by PublicDomainPictures on Pixabay
Wellington Jighere is the first World Scrabble Champion from Nigeria. He is a professional Scrabble player and participated in several national competitions before his big win. Not much else is known about the man, but it is implied that he continued his Scrabble career after winning in 2015.
2016 World Scrabble Champion Brett Smitheram
Brett Smitheram began his Scrabble career way back in 1997, when he won all six episodes of the British show Countdown. He also made an appearance on the Micky Flanagan show titled Thinking Aloud.
Before and after his World Scrabble Championship victory in 2016, Smitheram has acted as a highly regarded spokesperson to the global media for Scrabble and other gaming topics. To this day, Smitheram continues his Scrabble career and continues to compete against many of the champions on this list, including Nigel Richards.
2017 World Scrabble Champion David Eldar
David Eldar is an Australian who had his first Scrabble win in 2006, during the World Youth Scrabble Championship. Scrabble became his profession along with poker, though Eldar's focus is more on poker. After his World Scrabble Championship victory in 2017, Eldar went on to earn over $1,800,000 in PokerStars as of April 2018. He continues his career in poker, specializing in Omaha hold 'em.
The Next World Scrabble Championship
The next Mattel World Championship will be held in The Riviera Centre, Torquay, UK, too. The event will be the same format as last year. The date is fixed: From 16th November until 24th November the best Scrabble player of the world will meet in the UK again.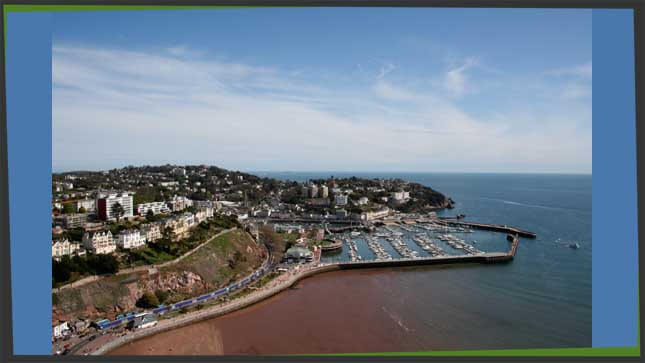 image source
title – via getstencil for word-grabber.com
harbour of Torquay – by averoxus, CC BY 3.0 via Wikimedia Commons, https://commons.wikimedia.org/wiki/File:Torquay_Harbour.jpg