On Monday I launched the new layout. Thank you for all your helpful feedback. After fixing all bugs you reported I would like to get your feedback via the following poll.
I don't have good experiences with more than one poll at a time so I put different questions regarding the new layout into a single poll. Still, this one contains three groups of questions: Problems you might have, satification with features and general opinion on the layout.
You can choose as many answers as you like.
I want to tell you about the new layout that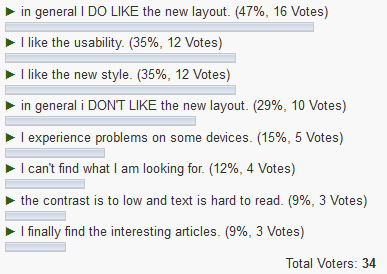 High usability is the main issue of this layout release so I want to draw your attention to the questions addressing this issue. I got some negative feedback on the low contrast between text and background, but would love to get more feedback to deside whether to change it or not.
Anyway, if I missed something you want to give feedback on feel free to use the feedback form or the comments below.