Word Swipe takes on the brilliant swipe and win side, with twists that make it unforgetable. This thrilling game is brought to you by Wordfun Games, and it will help you figure out some tough and interesting words.
Getting started is easy, and all players will begin at Level 1. There are thousands of levels you can experience, so you need not worry about ever getting bored. Each level has a unique theme that will tap into every day words.
No idea which words you are looking for? Get some help with our
Word Unscrambler
!
The Fun Side of Swiping
Now, how do you go about playing a game? It begins with your initial swipe, which takes you to the first level. Each level has a number of words that you need to uncover, and at the top of the page are blank boxes with the number of letters for each word. This makes it so much easier for you to figure out which words to look for.
At the bottom of the screen, you will find that there are letters lined up in kind of block. Now amongst these letters you will have various options for words to fill in the boxes above. When you find a word, all you need to do is swipe the letters. If the word is there, the letters will quickly jump to the top of screen and fill in the blank boxes. When the word you have swiped is not an option, one of two things will happen. First, the word may be a bonus word and will be registered at the bottom of the screen. The second options is that nothing will happen, so you will need to keep swiping. Once you have filled in all the words, you can move on to the next level.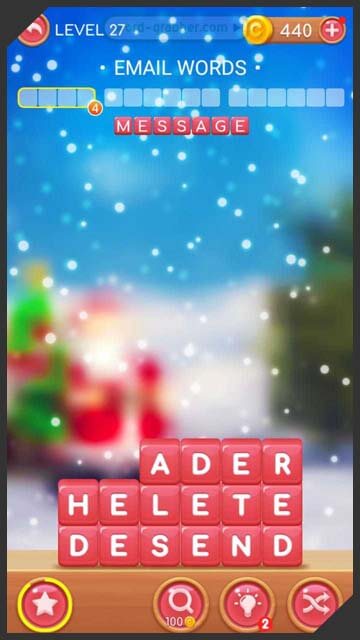 Unlock Amazing Themes
Variety makes playing this game all the more interesting. As you play, you will find that you have the chance to collect some keys as well as coins. You may wonder what these are for. You can use them to unlock one of the 16 themes that are currently available.
When you change a theme, you change the background, and these backgrounds are quite engaging. In addition, you will also have different coloured tiles to swipe with when playing. Unlocking themes starts with ten keys or you can choose to unlock a random theme by using some coins. Here, you will need to have a total of 1000 coins and the system will pick a cool theme for you.
Coins and keys can be earned by passing each level and through other bonuses. When you reach the end of a level, for example, you will be given a reward in the form of keys and coins. Keep an eye out though, since there are chances for you to significantly multiply the reward you are given. This usually involves following the screen prompts to watch ads to multiply your reward.
Each day you sign in to the game, you are given a chance to get a special gift. Within this gift, you will find more coins or keys. All these go on to give you a much-needed boost.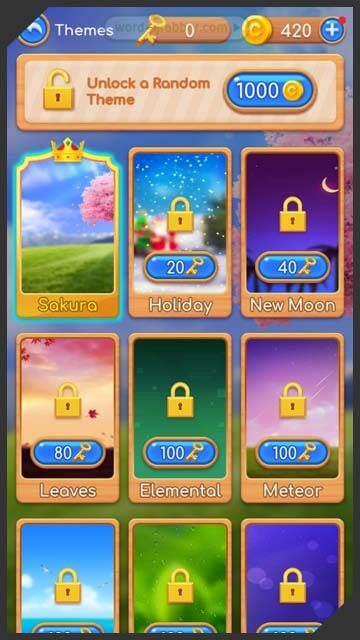 The Little Tricks That Boost Your Game
When playing word games, especially the ones that become more challenging with each level, things can get hard. What this means is that at some point, you will find that you cannot figure out which word goes where. This can lead to frustration and may keep you stuck at a certain level for some time. The game has various solutions, however, to help keep things going. Here are some of the little tricks you can use to boost your game.
A Shuffle Button to Go On
First, there is the Shuffle Button. This is at the bottom right-hand side of the screen. This is useful when you need a small change in perspective to help you find a word. Pressing this button will rearrange all the letters on the screen and before you know it, you will be back to swiping and filling in the blanks.
Choose the Light Bulb for a Hint
The next little trick that you can use is the Light Bulb. When you choose this button, you will get a hint for one of the words, in the form of a letter appearing in a black space. The letter will normally form the first letter of the word and by following this letter, you can swipe and fill in the space.
The Looking Glass Highlights a Letter
There is a third bonus that you can look forward to – the Looking Glass. When you select this looking glass, one of the letters at the bottom of the screen will be highlighted. This will also be the first letter of a word that you can swipe. Simply swiping will fill in the space and reduce the number of words you need to figure out.
Use Your Coins
As you play, there are a number of free bonuses you will receive, and in some cases, you can earn some as you advance through the levels. As you use them, however, you will find that you need to replace them. This can be done simply. Just make use of your coins. Your coins will help you complete your levels with ease, so make sure that you take advantage of any opportunity to get your hands on them.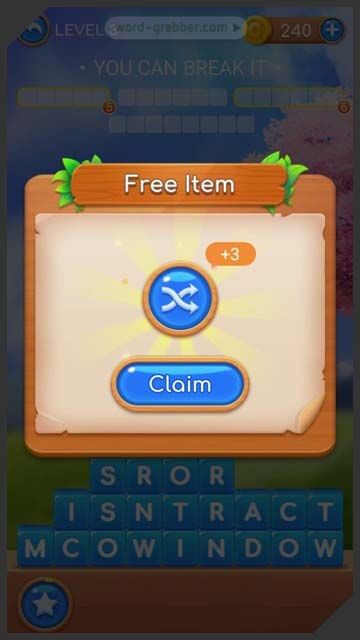 Tease Your Brain
Want to win this game? Get ready for hours of play to accomplish this. There are thousands of levels you can experience when playing. What is even better, is that the more you play, the more challenging the games become. This will build up your skill when it comes to figuring out new and better words each time. Even better is how your powers of deduction will improve. Each level has a new topic and the more the topic or themes come up, the easier it will be for you to figure some words out.
Advertising
Playing games on your mobile device can be fun, especially when you do not need to contend with many advertisements. This is the case with Word Swipe. The advertisements are few and far between, and they are not too intrusive. You can watch ads if you want to increase the number of coins available in your coin wallet. For the most part this works, however, you will find that sometimes the adverts will not play as expected after a while. This may have you feeling cheated of a few coins so if you want to earn with coins, don't depend on the adverts too much.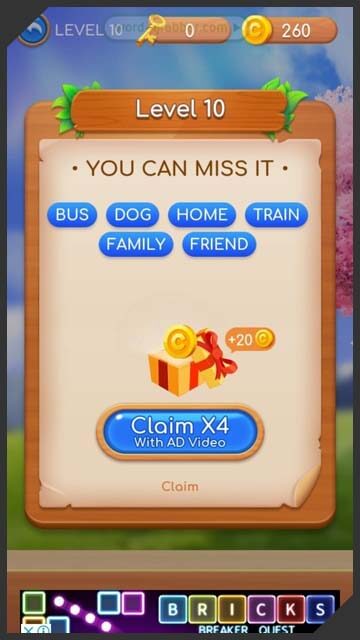 Joy is Just a Swipe Away
Joy is just a swipe away with this brilliant game. All you need to do is look at the letters presented and spend some time figuring out the words. The themes make it easier for you to track these words down and complete each level. You only need a second to swipe and you will be hooked.
image sources
Titlepicture – Logo of Word Swipe with title by word-grabber.com
Picture 1 – 4 ingame screenshots of the app Word Swipe.