Word games always have been a big seller not only as board games or in newspapers. Smartphone games with words have gained great attention when Zynga invented the word App Words With Friends and created millions of addicts all over the world. Besides Words With Friends there are lots of other word games available in the Apple App Store, the Google Android Market or the Windows Phone Market Place. Here we would like to introduce you to some mobile word games that are worth playing.
WordJong Lite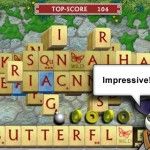 This popular app for iPhone and iPod touch is available in Apple's App Store. WordJong Lite puts a word game twist on Mahjong. So it is a game of skill, strategy and calculation and involves a certain degree of chance. The basic principle is to build the best words possible from the top layer of tiles available to you. In the end you have to get rid of all the letter tiles piled up infront of you. The full version gives you a new puzzles every day. With this free lite version you just get a week's worth of puzzles. It has got a 100,000 word dictionary, so quite a lot of letters to build words with. If you need help just consult our mobile word games helper.
Word King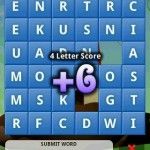 Android users amongst you may probably know Word Search King since it is one of the most downloaded mobile word games for Google smartphones. Similar to other mobile word games, Word King puts pressure on you with a countdown. You need to be fast and skilled. Each level has a certain number of points needed to progress. As if this wasn't enough, each level requires more speed and skill to conquer. Like in most word games proper nouns are not allowed. To become a Word King you need to get the top score by finding the biggest words before the time runs out. If you succeed you can find yourself on the world wide Word King scoreboards. Use our mobile word games helper for training and get crowned with success.
Wordament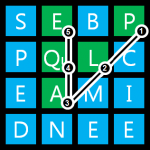 Interested in a mobile word games challenge in a real-time competition? Try Wordament. This word search tournament is available for Windows Phones and can be played with an active community of players from all over the world. Every player is competing on the same board consisting of 16 letters. Thus you can compare your results with all the users. See how many average seconds it takes to find words and how many average points your opponents receive per word. To make it more exciting you can customize your rank that is shown at the end of every game by selecting the people you want to get compared to. Because these opponents are quite often your friends this option is called Frenemies – wordplay with the words Friends and Enemies. Be the best and use the mobile word games helper when you are in the tight corner.
Mobile word games helper
When should I you use word-grabber.com to get better at mobile word games?
You can use it to train and become faster in a multi-player tournament.
You can check words afterwards to find the best possible combination.
You can cheat while playing in a single-player game if you are lost.
How can I use word-grabber.com?
Our cheat will help you to create words from letters for all kind of mobile word games. To use it, simply type in the letters you want to use. You can optimize the results of the cheat by using a pattern the results should fit into or choosing one of the search options like the number of blank tiles. To get more information read our instructions.