42-year-old journalist Alan Connor is known in Britain in particular for the quiz show "Only Connect" that he writes questions for, and for his articles in The Guardian about crosswords. Now he has written a book about the "Joy of Quiz" published by Penguin Books Limited. We spoke with him about that joy, the word game Words with Friends, and of course about crosswords.
Crosswords are a modern phenomenon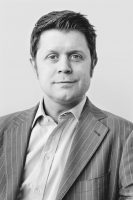 Alan, you had written two books about crosswords. "Two Girls, One on Each Knee" about British crossword and "The Crossword Century" focusing on the American crossword with of course overlap between the two. Why did you do that? What made you decide to write such books?
I was astonished when I learned that the crossword is only 100 years old. It felt like something that the poets of Ancient Greece might have dabbled in on their days off. So realizing that it was a modern phenomenon made me wonder: how did it fit into the modern world? Answering that involved tales from detective novels, real-life espionage, and artificial intelligence: a kind of startling and funny parallel history of the twentieth century.
Do you want to know more about the
history of the crossword
? You can find some
good articles about
crosswords and the
history
of riddles at word-grabber.com.
What makes crosswords so interesting?
When you read a newspaper, there's not much you can do about any of the contents. The economy, the geo-political situation, even the latest woes of your favorite sports team are way beyond your control. But when you get to the puzzle page, you're actually invited to take part. It's the original "interactive" medium. And all those white squares just beg to be filled.
You write about crosswords for The Guardian. Do you solve each crossword? How do you write such articles?
Each of the serious newspapers in the UK has its own crossword culture. Some are more playful, others pride themselves on their consistency. I hope that my Guardian column points people who might be loyal to only one paper's puzzles in the direction of some very special wordplay elsewhere that they would otherwise miss.
How do you solve a crossword?
I prefer to solve in pencil. For me, a pen suggests more certainty and commitment to an answer than I tend to have until it's confirmed by more letters. Of course, the days of newsprint are numbered and many of us who prefer pencil-and-paper are adapting fast to the tapping, typing, and swiping of on-screen solving. Some interfaces are better than others, of course.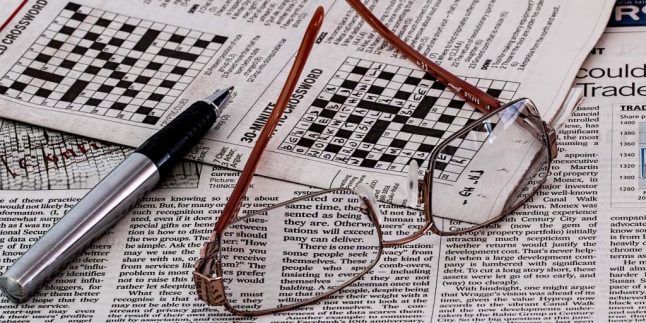 Quizzing tells us something about ourselves
After two books about crosswords, your new book is about the "Joy of Quiz". What awaits the reader?
Quiz is another pastime that's younger than I'd thought. In Britain, it only really got going as part of the "war effort" around 1940: BBC radio quizzes to test whether air-raid wardens knew what they were doing, and a love contest uniting, on-air, young soldiers stationed in France with their families – though the British soldiers were so drunk that there were concerns they would give away their location and the experiment was not repeated. Since then, it's become a worldwide phenomenon, of course. I look at how we came to start answering questions for the fun of it – something that many people dread as children when facing exams but happily volunteer for as adults -, how to improve your performance and what quizzing tells us about ourselves.
What is the best thing about quizzing?
We all accumulate so much information. A decade ago, it started with turning on the radio in the morning. Now, for those with smartphones, every moment of the day has the potential to equip us with new facts.
And yet: do our jobs demand that we know much more today than we did yesterday? They do not. And do our friends and family care whether we know the four major languages of Montenegro? Hardly, only the quiz allows us to use all that information. We call ourselves homo sapiens — people who know — and quiz is our way of celebrating knowledge and turning it into a game.
The four languages of Montenegro
We are sure you knew the answers. For those who did not, here they are:
The four languages of Montenegro
show
hide

Serbian
Montenegrin
Bosnian
Albanian.


Using Crosswords as a way of keeping in touch
You are the question writer for the quiz Only Connect. Where do you get your ideas? And how do you write the questions? Is there any special routine for it?
It becomes a kind of compulsion, not necessarily a healthy one. The quiz setter ends up reacting to everything that happens at a slight distance, always wondering how it can be forged into a question. Only Connect is a show where the typical question demands that the contestants know about manga as well as Greek mythology, and can see the connection between something from both worlds, so the added compulsion there is to divide all of the cosmos into neat little sets and sequences of four.
To think up questions is a great creative process: What do you do to clear your mind after work?
When I find a way, I'll let you know!
You know, word-grabber.com is a website with a crossword solver on board and a Scrabble helper. Do you like other games with words like Scrabble or other word games?
I adore Words with Friends. When I was researching my crossword books, I found that there are lots of pairs of people — siblings, friends and so on — who use crosswords as a way of keeping in touch. They are prompted to send each other a message when they're stuck on their regular puzzle, and non-puzzling conversation ensues. WWF does a similar job, I reckon. Scrabble, though, remains at its best when a game takes place in a single sitting, ideally at a pub fireside with the competitiveness level very low.
You have worked as a TV producer and presenter and you write gags and quiz questions for TV. Where do you feel more at ease: in front of or behind the camera?
My first job was, strangely, as a TV presenter. This was before the time of instant responses, and looking back, I was lucky to be able to think about what I was doing in a way that was slower than anyone would be allowed today.
What do you do in your leisure time?
Lately? I decided to give Klaberjass a try. It's not played much in England, and in fact to get a 32-card deck, you have to buy a 52-card deck and throw away twenty of the cards. I am hooked!
Thank you, Alan for your answers. Your new book "Joy of Quiz" came out on the 3rd of November 2016 and is now available in every bookshop. We wish you plenty of continued success and inspiration for new questions and articles about crosswords.