For all the Facebook gaming enthusiasts, Word Trick is a must play game. It's a fun game that makes fumbling with words such an entertaining feat. While I have always been a fan of scrabble and crosswords, I find the Word Trick interface more inviting and convenient. Nonetheless, the setup is similar to what you get with Scrabble, and words can be formed in either a parallel or up and down manner. Up to four players are allowed to take part in each game, and the participants can engage both Facebook friends and random opponents. This is just one of the things I like about Word Trick because even when none of my friends is available to play, I can connect with a stranger and have an enjoyable time.
Playing a Word Trick game
In any given round, Word Trick provides seven letters for each player to use in creating words and as the game proceeds, it records the moves made. However, the exchanges don't have to be done in real time. This means that players who want to be serious with the game at a given point and those who need to juggle between the game and their jobs or schoolwork both stand a fair chance of winning. Players have up to four days to respond though, failure to which they are kicked for being inactive.
The trick part of the game comes in where a player has to match a couple of green trick tiles to unlock a bonus. The more tiles used, the higher the scores. However, great achievements from an opponent's big words can't be taken advantage of. For instance, if someone plays the word turtle and gets a score for that, adding an 'S' to it won't grant you a bonus. Also, when it comes to the word selection, some may be accepted as valid even when they don't seem to make much sense and others may appear applicable yet fail to go through .This can be discouraging, especially when it seems to work in favor of an opponent, but I've realized that the only way to get around this is to keep playing the game. Playing more means acquiring a wider vocabulary, hence an edge against other players.
If you are new to Word Trick and you decide to play with a stranger for the first time, it's good to have a casual chat with them so you can evaluate the chances you stand and also find out whether they will disappear after the first move or if they'll be able to commit to a serious game. At the start, you can expect to earn many achievements which are quite easy to come by considering the fact that you get them from doing standard activities. To obtain real achievements in the game though, you will have to handle tough challenges later on.
Word Trick Cheats
Like Scrabble or other word games, I have come across quite a few applications that are used as Word Trick cheats and since you don't want to lose to a person using one of these, there are things you should be on the lookout for, especially if you want to tell whether or not the other player is cheating. I once played a game with someone whose words suddenly became verWord TrFay sophisticated compared to what he had been playing during previous games and I could tell he was cheating despite the fact that he was not anywhere near. This is one thing you can pay attention to so that you are not beaten unfairly.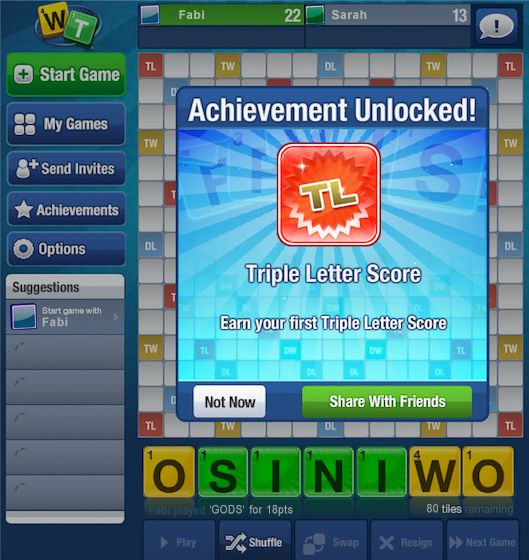 Tips for a Word Trick Game
Word Trick is just as tricky as its name suggests, so if you want to beat your opponent while at it, there are some tricks you can master to help you have an easier time. First, try as much as possible to use all the 7 tiles you have when creating a word because by doing so, you get a bonus score of 75 points. Also, you should place the tiles carefully; think about the move you want to make before you do it so you don't have your tiles close to a TW, otherwise your opponent could get a bonus. Armed with these few tips
Word Trick on Facebook
is one great place you can go to to enjoy a Word Trick game.