I. Make Words From Letters
We provide tools that help you to create words out of letters for different word games. Every tool we provide is described by a detailed instruction. Additionally, a concrete example will help you understanding the tool. Click on a word tool to find out more.Just enter your letters, the pattern, and blanks to receive words for following games and purposes:
| | | |
| --- | --- | --- |
| | | |
|  Scrabble® | Words With Friends |  Wordfeud |
| | | |
|  Letter Sorting |  Anagrams | Word Finder |
III. Search for Word Lists
You are looking for words that must contain a certain letter, have a certain length or must start with a certain letter? We provide word lists that help you to find these special words. Here is a short word list selection from our large pool of word lists:
IV. Discover Words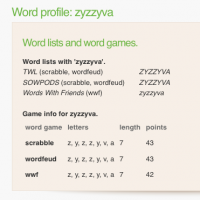 Every word of our word lists has a word profile. The word profile pages contain information about the word and its appearances resp. validity in different word games including the basic points you can score with it and external links to Wikipedia or Wiktionary. Access word profiles from:
V. Vote on Polls
Periodically, we will poll members regarding word games issues. Where do you stand?
Here we have polled our users concerning a smartphone word game we testet in one of our articles:
Word Mole for iPhone is…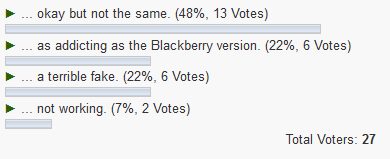 VI. Leave a Comment
Love it? Hate it? You have more information on a topic than we have? Raise your voice and state your opinion on any article or post. See how a discussion arose from our Word Mole FAQ article.

VII. Give us Feedback
Use the fast feedback box on the top right of word-grabber.com or the feedback page to get directly to us. What can we improve? What do you like? You found an error or miss an article or feature? We really care!