Words with Friends has been around for quite some time and has found a home on the mobile devices of millions of users. People haven't just used it for entertainment, but also stay in contact with friends and family. This mobile app allows you to play with people all over the world, no matter where you are. The newly released Words with Friends can be downloaded for free and will keep every mobile user on the edge of their seat.
Zynga Introduces Solo Play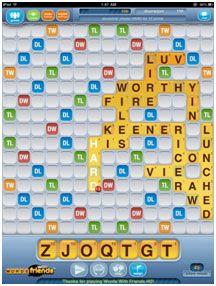 One of the most prominent new features is Words with Friends Solo Play. This update was demanded by users quite frequently in the past, so players are very happy to welcome it. The new update is accompanied by a detailed user profile with player statistics.
What is Words with Friends Solo Play?
Words with Friends Solo Play allows players to play offline. Not everyone has a brilliant wireless connection and Zynga also wanted to provide the game to these users. A Solo Play game is easily started by matching the player with an AI, depending on their skill level.
You don't have to miss your favorite game anymore when you cannot connect to the internet! However, people who like playing online can still use the match-up system and two additional new modes.
How do you play Words with Friends Solo Play?
Playing Words with Friends Solo Play is "easy as one, two, three… Are simple as do re mi – A B C, one, two, three, baby, you and me girl". Sorry, I lost the focus!  The Solo Play modus allows you to make a move every two minutes. When using this feature, you don't have to wait for another player to accept, because the AI is always ready! You can use the Solo Play when you want to practice before playing against others or for a quick game when there is no internet connection available. Are you ready to challenge the artificial intelligence?
What Else is New?
Zynga has put a lot of work in revamping this game to what it is now. Users can now experience a more sleek and modern design, satisfying users of every age group with its simplicity. When playing the game, you'll notice that the interface also shows larger pictures of other players. This makes the game a lot more visually appealing and sociable.
Along with implementing the new Words with Friends Solo Play update, there are two additional new modes as well. These include the Smart Match and Community Match. The Smart Match will give you a random game, but is determined by your skill level. This increases your chances to get to polish your skills, even when you are a beginner. The community match will let you choose your opponent, giving you more control over match-ups.
Conclusion
Faithful Words with Friends players have received the update with open arms. More than 58 billion words have been played, and more than 1.2 trillion points were scored over the past five years. Zynga believes these numbers will only grow. Words with Friends is available for download on the iTunes App Store and Google Play. Give it a try and see if you can beat the longest winning streak of 9678 games?